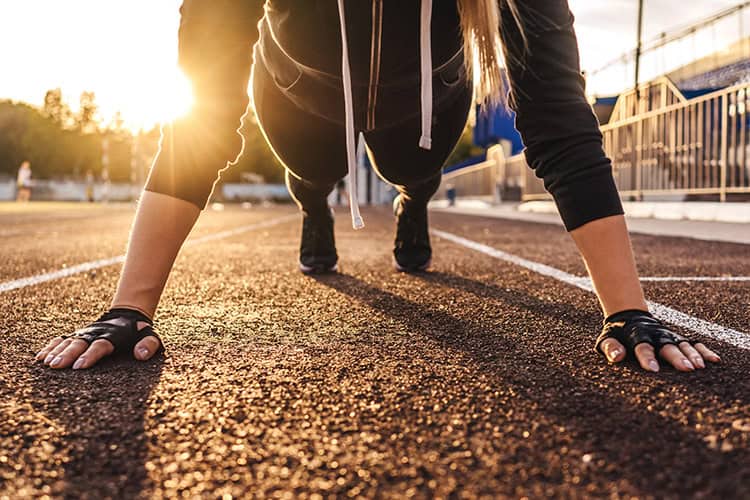 When you're training to run, it isn't all about what you do on the track or trail. A huge part of your workout routine will involve running, but if that's the only thing you do then you'll be missing out on other exercises that can make you an even better runner.
Running can sometimes cause muscle imbalances and overuse if you don't mix up your training schedule. Cross-training improves overall fitness and can also make you a stronger runner. If you want to get better at running, it's time to hit the gym.
Weightlifting
Running is great cardio, and it works the muscles in your legs, but it doesn't really build that much strength on its own. Runners benefit greatly from a strength training routine that involves weightlifting. Training to strengthen your quads, hamstring, calves, glutes, and ankles will pay off as increased speed. Strengthening your upper body will improve overall fitness and posture, which can also translate to better running form.
Lunges
Lunges work muscles across your body, but also focus on working each leg individually. This strengthens your legs for running and improves your balance. You can start with bodyweight lunges to make sure your form is right, but weighted lunges will be the most helpful for runners.
Indoor Cycling
Cycling works very similar muscles as running does but with less impact. It lets you keep working your running muscles while giving your knees a rest by eliminating the strain from your feet hitting the ground with each step.
Yoga
Yoga is a great way to incorporate bodyweight exercises such as bridges and planks into your routine. It also helps increase flexibility and balance. Gentle yoga can also be a good option for getting some movement in on rest days.
Join A Group
Group training is a great way to stay on track with fitness goals. You'll have social support from group members as well as an expert trainer leading the group, answering questions, and helping you meet your goals. It comes with most of the benefits of working with a personal trainer but with lower costs.
When we place you in a group training class at Extreme Studio Performance, we match you up with people who have similar workout goals. You might even meet a new running buddy! To learn more about our high-end gym or group training, click here to contact Extreme Studio Performance. A fitness specialist will respond soon to set up a tour and free fitness evaluation. We'll also talk with you about your unique needs and how your work here in the gym can support your running goals.
---
---
---