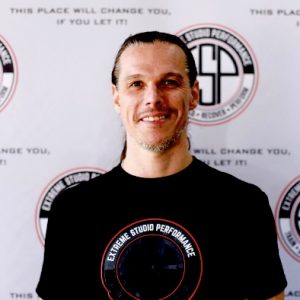 Trainer Introduction
Train harder
David has been a professional fitness trainer over twenty years and intensely studying, applying, and/or teaching yoga and martial arts for over a combined 30 years.  Through experimentation and extensive research in components of numerous exercise modalities, a completely unique system of personal development has been created.  His style of training has been introduced to and practiced by individuals from all walks of life, including athletes from the NFL, MLB, PGA, NBA, UFC, NCAA Football, NCAA lacrosse, and high school athletes of all sports.
David incorporates the education and experience that he has received into all modes of training whether the client is trying to improve health and fitness, overall body composition, sports specific training, etc. The philosophy, discipline, and coordination are always the motive whatever the physical endeavor. He is adept and experienced in working with all age groups and athletic levels.
He views each individual with a unique physical and mental capacity and uses all of his resources to effectively motivate the individual to achieve their highest goals.
David can train you in any environment, from the most sophisticated health club to a bare floor in a home with no exercise equipment. Understanding how to care, train and discipline the body is his full time passion.
Year
Position
DEscription
2004-Present
Professional Fitness Trainer, Yoga Instructor
The mission is to not only provide a completely unique personal development experience but to help people unlock their unrealized potential and achieve goals that had never before seemed possible.
Certifications and Achievements
ACSM, NSCA, ACE, AAAL , Yoga Fit, ISCA with Specialty in Yoga, Martial Arts, Resistance Training, Functional Training, Flexibility
Founder of Black Dragon Yoga.
Black dragon yoga  is a challenge beyond simply transforming the form and function of the body structure.  it is a discipline for the physical, mental and spiritual, as well.