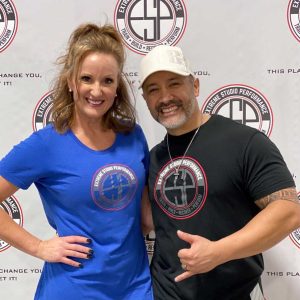 Trainer Introduction
Train harder
Tom Blas is a US Army Veteran that has been a Fitness Professional for over 20 years. He specializes in Corrective Exercise, Performance Enhancement, and teaching Krav Maga-Israeli Self Defense to clients of all ages. He has worked with many Professional and Collegiate Athletes, Military, and Law Enforcement.
He has assisted in teaching NASM Education to all New Hire Trainers for 24HR Fitness-Central Midwest Division  from 2005~2008. He got Certified as a Krav Maga Instructor back in 2002. He also served as Combat Engineer in the US Army from 1993~2002.
Leda Blas has over 30+ years in the Fitness Industry. She has taught Multiple types of Group Fitness Classes-from Body Pump, Spinning, and Cardio Kickboxing to name a few. She was one of the First to be Certified as a Body Pump Instructor in the US. She specializes in Corrective Exercise and Group Fitness.
He and His Wife offer 1-on-1, Group Training, Kids Classes and do Self Defense Seminars for all Ages.
Veteran Owned Business
B & D by Tom and Leda Blas LLC
@bodyanddefense
@ledablas
Tom Blas
US Army Veteran
NASM PES and CES
Krav Maga Instructor
RPR Certified
Leda Blas
NASM FNS