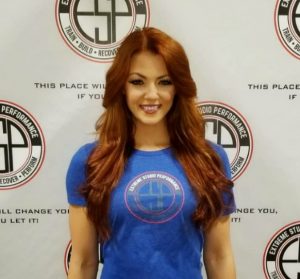 Trainer Introduction
Train harder
My love and passion for fitness started when I made the big leap into the professional dance world and spent 3 years cheering for the Milwaukee Bucks.  After closing the NBA chapter, I decided to take a chance and uprooted my life from Wisconsin to Texas where I cheered for a CHL team. The following year, I gave everything I had and earned my boots and 15 stars as Dallas Cowboys Cheerleader.
With 9 years of dance experience under my belt and constantly having to watch my figure, I completely understand the stress of getting in shape, weight fluctuation, and maintaining.  It takes a mix of discipline, motivation, support and confidence to achieve personal goals.  So, whether it's gaining muscle, losing weight, increasing endurance, or just wanting to live a healthier lifestyle, I am here to help you!
Year: 2018 – present
Position: Personal Trainer, Stretch Coach
Description: My mission is to motivate clients to be more optimistic and energetic for success while simply having fun and working towards specific goals.  Not only is training physical, it is also a mental and emotional transformation.  Whether it's strength training, resistance training, conditioning, or even stretching, I am always coming up with new ways to challenge clients to their full potential, leaving them feeling 100% accomplished.
Certificate: Certified Personal Trainer through NASM