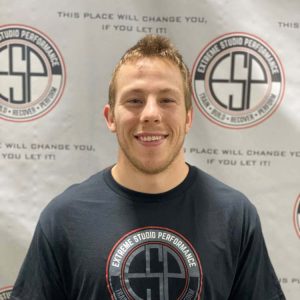 Trainer Introduction
Mason Hartsock
Hey there, my name is Mason Hartsock! 
BJJ, kickboxing, training, and hiking are some of my favorite things to do, and the gym and the kitchen are some of my favorite places to be.
I have a vision to impact as many people as possible and to educate as many as I can to learn how to navigate the confusing world of health, fitness, and nutrition. Not only to obtain the results they are after, but also how to sustain what they have achieved for the long-term.
I want people to see that the answers they seek aren't always found in more reps, more sets, more weight, higher intensity, program hopping, fat burners, pump stacks, and other things that provide only marginal value.
I believe that connection and education are ultimately the missing keys for those who struggle to achieve long-term success and provide a clear path for navigating their goals.
Certifications / Education:
Pre-Script Level 1– The leader in education of resistance training, with a function-first approach in anatomy.
Pre-Script Level 2– A deep dive in education on the nervous system and applied biomechanics, and how the integration of proper exercise improves both.
NCI Level 1– A course on how to master all the fundamentals of nutrition, regardless of the goal. Whether it is weight loss, performance goals or improving overall health, this is the industry-standard for how to achieve results and keep them.
NCI Thyroid/Hormone– A functional and applied nutrition course on how nutrition and lifestyle factors impact hormone profiles within the body, how to interpret blood work, and manage any outlying conditions related to hormone health.
Precision Nutrition Level 1– Master strategies on how to help anyone, regardless background, improve and master their relationship with food, how it affects the body and mind, and how to apply these principles in their own lives.
Crossfit Level 1– The Crossfit Level 1 provides an introductory education on the fundamental principles and movements of CrossFit-the leader in functional fitness. It is the starting point for anyone seeking to improve their health and fitness through effective training and nutritional strategies. Prospective coaches and gym owners take the Level 1 to acquire the foundational training required to help others become fitter and healthier using the CrossFit methodology.
Crossfit Level 2– The Level 2 Certificate Course is an intermediate-level course that builds on the concepts and movements introduced at the Level 1 Certificate Course. This course is ideally suited for any CrossFit trainer serious about delivering quality coaching. Level 2 participants enhance their understanding of the CrossFit methodology, program design, and implementation. They also advance their skills while coaching others in movements and workouts.