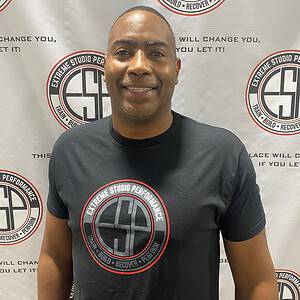 Trainer Introduction
Train harder
MY STORY
Making a Positive Impact
-How I started and how I got to where I am today:
I have always been drawn to fitness, working out and athletics.  Growing up I played basketball and club soccer.  I was one of the top basketball players which landed me a scholarship to Tarleton State University, where I received my bachelor's degree in Exercise Science in 1999.   During my time at TSU, I was always helping my friends and colleagues with personal training, which I truly enjoyed. My passion for helping people in fitness grew so I combined the two and became a personal trainer. I received my fitness certification at Cooper Aerobics Institute and studied as a intern and the Baylor Institute for Rehabilitation. I've been in the fitness industry for 20+ years and I've enjoyed working with a variety of clientele from professional, college, high school athletes, and pre + post rehabilitation to elderly.
-What am I most proud of and what sets me apart from others.  
My best accomplishments are seeing the changes in my clients after reaching their goals. The satisfaction I receive from this transformation is very gratifying. What I love the most is the gift I give of living a healthy lifestyle that can be used over a lifetime and shared with our friends, family and loved ones. There is nothing more important than the time we have on earth to spend with the people we truly love.
What sets me apart as a wellness expert is my passion for fitness and the ability to connect with people to achieve their goals from a holistic approach mentally and physically so the results are lasting. I believe living a healthy lifestyle begins with maintaining a strong and fit body. My aim is to help you identify your fitness goals, design an exercise program that fits your needs, and guide you through every exercise, every workout. My holistic approach to fitness and health will have you feeling great and seeing results in no time.
​-Has it been a smooth road?  
Achieving your goals is never a smooth road.  It takes time, concentration, commitment, positive attitude and most of all believing in yourself and your goal.
https://www.mjelitefitness.com/