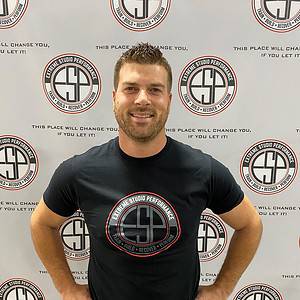 Trainer Introduction
Train harder
Charlie has 10+ years experience in the industry of personal training. His skill set and passion for perfection show irrefutable progress in each of his clients. Charlie takes a wholistic approach to every client, assessing and programming for their current needs.
Whether it is strength and conditioning for improved performance or correcting muscular imbalances for pain free living, each client receives an in depth assessment to ensure a custom and tailored approach for what they currently need to succeed.
Fit4Golf​ is a performance improvement golf fitness company, owned and operated by Charlie. His certifications with the Titleist Performance Institute allow him to assess swing characteristics that may relate to biomechanical insufficiencies. After an assessment, golfers of all ages receive a program that flows through progressions, improving upon and then challenging each client appropriately.
Education and Certifications
University Of Texas At Arlington
B.S. Exercise Science 2013
NASM
ACSM
CISSN Certified Nutritionist
CIAR Biomechanics Cooper
RTS (resistance training specialist)
Ortho-Kinetics PTR
Ortho-Kinetics STR
Ortho-Kinetics former instructor
Mi40 Hypertrophy and Biomechanics
N1 Advanced Biomechanics & Metabolics
Titleist Performance Institute L1
Titleist Performance Institute L2, F1.
Career Highlights
Fitness consultant Plano Police department 2019
Fitness Consultant Woodside Health and Tennis Club, KC 2015-2019
Lead Trainer and Continuing education instructor Telos Fitness Center 2017-2019
Presenter for youth organizations 2015-2019
Company health event speaker
Consultant for youth sport player development (baseball, soccer, golf, football)
Athletic training programs for High school to College athletes