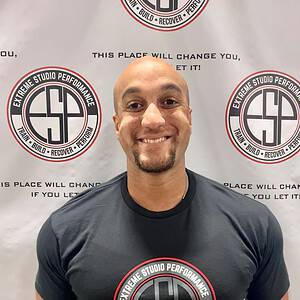 Trainer Introduction
Train harder
Marcus Washington is a Certified Fitness Professional who is dedicated to delivering health & wellness solutions to his clients that ultimately improve their quality of life. He has more than 16 years of experience training individuals from all walks of life; including youth, daily business professionals, families, the elderly, and professional athletes from NFL/CFL/NHL. He also obtained numerous certifications throughout his career, and specializes in strength & conditioning, general training, rehabilitation, boxing, ART (active release techniques) and is also a certified cupping therapist.
Prior to Marcus embarking upon a career path in the fitness industry, he competed in college as a two-time All-American hurdler in track in field and played cornerback in football. Marcus then made the leap and competed professionally in track and field specializing in hurdles. After some time competing, injuries plagued his career and Marcus had to stop competing. After enduring and adopting the athlete lifestyle he was inspired to become certified in rehabilitating others, and this eventually led him to getting his first certification in Rehabilitation exercise. This led him to his training career.
Certifications
 NESTA (NATIONAL EXERCISE SPORTS TRAINERS ASSOCIATION)
ISSA (INTERNATIONAL SPORTS SCIENCES ASSOCIATION)
ACE (AMERICAN COUNCIL EXERCISE)
NASM (NATIONAL ACADEMY SPORTS MEDICINE)
NASM CES(CORRECTIONAL EXERCISE SPECIALIST)
NASM PES

 (PERFORMANCE ENHANCEMENT SPECIALIST)

NSCA CSCS (CERTIFIED STRENGTH CONDITIONING SPECIALIST)
Growing as a fitness professional can be unlimited.
"You can't diagnose a problem, until you hear that person's story." Once you hear that person's story then you can apply "biomechanics" and develop and program that is going to help the individual to the best of their abilities.
Overall being a fitness professional is more than just training an individual for an hour, it is a lifestyle that the coach introduces and the client/patient works with the trainer to achieve the desired results they want out of their program. The people invest their capital in the trainer, and it is the job of the trainer to get the results the client needs and wants. Synergy it is simple.