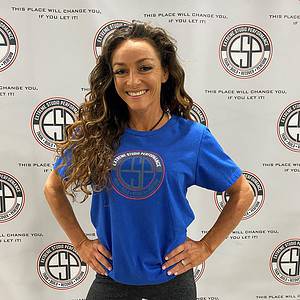 Trainer Introduction
Train harder
Lindsay has spent the bulk of her existence motivated by athleticism.  Though she hasn't grown much vertically since her early childhood as an aspiring athlete, her numerous experiences as a student, instructor, and mentor, both physically and mentally, have resulted in exponential growth.  She is driven, focused, and determined to be the best version of herself and instills that same, fierce mentality in each of her students (and children).
With a background in various athletics, primarily in ice skating, competitive cheer and tumbling, she has pursued numerous degrees and certifications in similar realms.
Upon graduating from high school in the late 90s, her professional career instantly began when she was recruited as an All-Star Cheerleading Instructor with NCA after completing her phase as one of the original teammates on the nationally recognized organization, Cheer Athletics.  She was able to continue her passion of competitive cheer as both an Instructor and Judge, while also pursuing an Elementary Education degree at the University of Texas at Austin.  Shortly after receiving her Bachelors degree, she stumbled into the life of a Gymnastics Recreation and Team Coach with ASI, which quickly promoted her to an Office Manager role in conjunction with teaching for many years.  Having the knowledge to understand both aspects from a business perspective and as a coach, has given her insight to multiple dimensions of fitness endeavors.
As someone who loves to teach students of all ages, ranging from infants to 90+, and consistently committed to her [passions], she furthered her education journey to becoming a certified Yoga instructor soon after obtaining her Personal Training Certification through The Cooper Institute.  In order to fulfill all of these modes of interests, she began teaching them simultaneously daily, bell to bell.
Inspired by Cirque du Soleil, her most recent years consist of adding the Aerial Arts to her portfolio when Moxie Mischief conveniently opened their studio inside of our very own Extreme Studio Performance.  It wasn't long before she began performing, predominantly on the silks, and eventually teaching on her home aerial rig, as well.
While Covid-19 has caused a temporary pause in completing her Pilates Reformer certification, it also created a mission to derive something unordinary that would ideally result in an outlet for those who were suffering mentally and physically from depression and/or dissatisfaction of being limited to individual home-based workouts, requiring more stimulation than their virtual trainings.
Because of this, KANGOO KARDIO was born, her personal spin off of Kangoo Power.  Lindsay is one of the very few licensed instructors in Texas to hold a certification in Kangoo Power; a high intensity, low impact, cardio-infused workout through the use of Kangoo Jumps Rebound Boots.  Imagine shoes similar to rollerblades that incorporate Zumba, aerobics, and mini portable trampolines all rolled into one fun, sweaty blast of a workout, with the additional balance challenge similar to being on two Bosu balls.  Kangoo Power is an extremely safe, effective, and popular exercise in several other countries and quickly on its way to becoming equally as sought after in the US.
Several benefits include lymphatic drainage improvement, increased metabolism and calorie burning while focused intently on coordination, up to 80% less impact on the joints due to the Impact Protection System of the boots that serve as springs. This program is guaranteed to make cardio training much more fun…and addicting!  To join any of our classes, please be sure to follow @KANGOOKARDIO on Instagram where the signup link and class schedule are included in the bio.
Lindsay refuses to let age define her capabilities and has a strong dedication to encouraging others to thrive on that same positive, competitive spirit, committed to putting forth their best efforts.  Her energetic, enthusiastic persona has led her to where she is today and if she is not flipping, bouncing, or dangling from ceilings, you'll probably find her being schooled at Go Fish by one of her 3 little princesses.