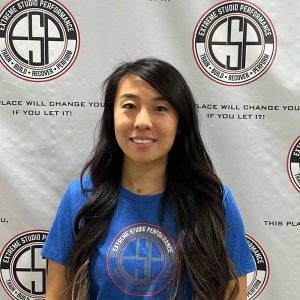 Trainer Introduction
Personal Trainer
After graduating from the world-renowned Parsons School of Design in New York City, Angela worked as a fashion designer for Calvin Klein and Michael Kors in Manhattan, during which she explored her creative passion to make people look and feel their best. After several years in fashion design, Angela shifted from an attention on the clothing of the body to the aesthetics of the human body itself. Inspired by the positive changes in her own health and physique after training with kettlebells, Angela devoted herself entirely to the idea of holistic physical development in an effort to initially undo the adverse effects that had accumulated as a result of thousands of hours sitting behind desks and then to the optimization of human performance.
Angela's intense desire to help others in this same endeavor led her to become a NASM certified personal trainer and nutrition coach, as well as a StrongFirst SFG (Kettlebell) Level II instructor.
Specializing in strength and conditioning, body re-composition, corrective exercise, postural rehabilitation, and nutrition/meal planning, Angela emphasizes a total body approach to training that looks at all aspects of health and wellness in order to achieve the desired results. Having had the satisfaction of training a diverse array of individuals, everyone from 12-year old youth-athletes wanting to maximize their performance to 90-year old senior citizens aiming to regain their range of motion. Angela has developed bespoke programs to help each individual discover their own way to maintain a heathy active lifestyle, ensure physical longevity, and pursue their best selves.
Certifications / Education:
Bachelor of Fine Arts in Fashion Design from Parsons School of Design
NASM Certified Personal Trainer
NASM Certified Nutrition Coach
StrongFirst SFG Level II Kettlebell instructor
Stick Mobility Level I certified
Indian Clubs Instructor
Experience:
Several years of experience in fashion design
Specializes in strength and conditioning, body re-composition, corrective exercise, postural rehabilitation, and nutrition/meal planning
Developed bespoke programs for a diverse array of individuals
Specialty:
Strength and conditioning
Body re-composition
Corrective exercise
Postural rehabilitation
Nutrition/meal planning
Athletic Accomplishments/Experience:
Experience in developing programs for 12-year old youth-athletes to 90-year old senior citizens