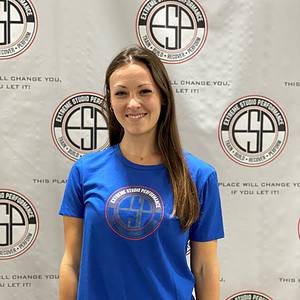 Trainer Introduction
Train harder
Alexx earned a degree in Kinesiology with a concentration in Health Promotion in 2017 and ever since has been working with a diverse range of clients. With an understanding of the biomechanical, physiological, and psychological principles of human movement, she knows that being a trainer is about more than delivering a strenuous workout. Alexx trusts in a synergistic approach to personal training.
She creates comprehensive exercise programs for her clients that account for range of motion abilities, injury history, and desired workout styles. She values taking the time to teach her clients how to move correctly and precisely align their bodies. Alexx believes that a workout routine should not only be effective and challenging, but also gratifying and sustainable for lifelong health.
Most importantly, Alexx recognizes the necessity of truly knowing her clients. She develops positive and collaborative relationships with them, so that she may employ the best approach to promote an active and healthy lifestyle for every individual she works with.
Education & Certification 2017-Present
❖ Louisiana Tech University, B.S. Kinesiology- Health Promotion
❖ NSCA-National Strength and Conditioning Association, Certified Personal Trainer
❖ Ortho-Kinetics, Professional Trainer Certification