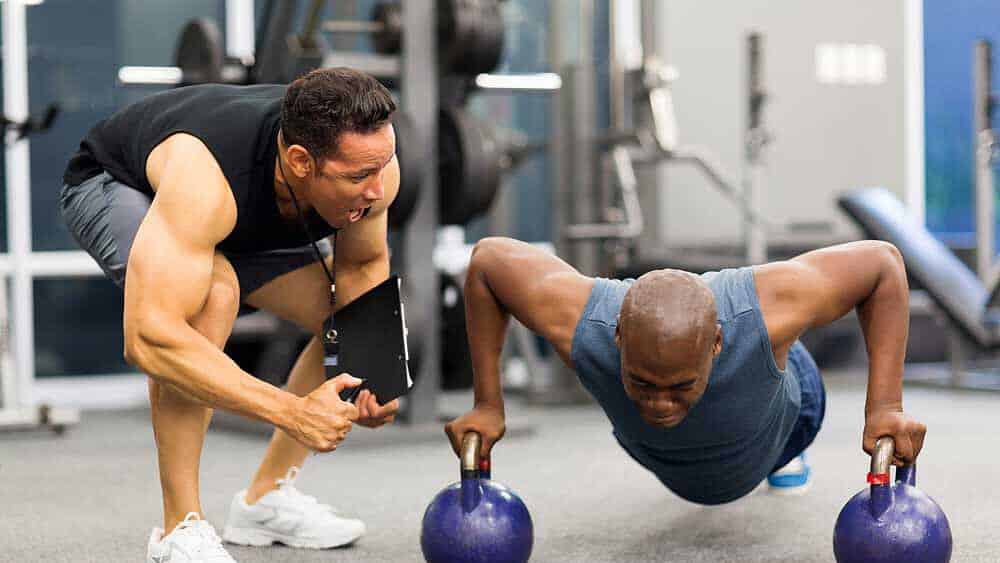 If you've ever had a membership at a big box gym or even toured one for that matter, then you've probably been hard sold on personal training.  That's not what we're going to do here.  Instead, we will educate you about when personal training is worth it.
Personal Training is for more than Just Beginners
One thing we see a lot of is the myth that personal training is mainly for beginners or people who are out of shape.  Let's just get that wrong idea out of the gym right now.  You'd be hard-pressed to find a Pro Athlete that doesn't have a Personal Trainer or Strength Coach to help improve.
That's not to say that personal trainers aren't for beginners; in fact, beginners will often see the greatest impact from personal training because they have the most room to improve.  In other words…
Personal Training is for Anyone That Wants Real Improvement
Anyone that wants to see real improvement can benefit from personal training.  A personal trainer's job is to stay up to date about the best ways to achieve specific fitness goals.  For beginners, good personal trainers will help you to set realistic measurable goals and provide a plan on how to reach them.  They will help you with determining the right level of intensity, resistance, and duration to nail your goals while staying safe and preventing injury.
More experienced athletes may already have knowledge of lifts, techniques, and workout plans they can do; however, that doesn't mean they know what's optimal for their specific needs.  Football players have different strength and endurance requirements than soccer players.  MMA Fighters have different needs than hockey players (or maybe not?). Which means…
You Need to Hire the Right Personal Trainer
Hiring the right personal trainer is critical to getting the results you want. Ideally, you should hire a trainer that specializes or has extensive experience with the type of training you need.
Personal trainers with experience with sport-specific training experience will help to eliminate wasted workouts and focus on the particular areas that will yield the most benefit.
Quick Tips for Picking the Right Personal Trainer
Let's be honest, there are a lot of personal trainers out there that aren't worth your time or money.  If you're researching hiring a personal trainer, then you've probably read some of the horror stories about awful personal trainers that were more interested in their Instagram feed than their clients or used a generic workout plan that had nothing to do with their clients specific needs and goals.  These types of personal trainers are not worth hiring!
To find the right trainer for you, start by avoiding the trainers at the big box gyms.  Many of the trainers at the generic chain gyms are new to personal training and simply don't have the experience or dedication.  If you get more details about the personal training horror stories, you'll likely find they happened at a big box gym.  That's not to say that there are never good trainers at those gyms, but rather, you'll be rolling the dice hoping you get a good one.
The best trainers tend to gravitate to elite gyms that specialize in performance.  Gyms that specialize in performance and attract professional athletes or up-and-coming athletes are more likely to get rid of underperforming trainers because they want to protect their reputation.
Your trainer should be able to provide testimonials, client references, and/or photo evidence of clients they've helped to become successful.  They should also practice what they preach (i.e. a weight loss trainer should not be overweight).
Personalized Experience
Personal training should be personal.  Your trainer should assess your fitness starting point and have benchmarks to measure your progress.  They should use their assessment and your specific needs and wants to customize your workout plan and give you realistic (yet aggressive) goals.  If your coach is promising more than 0.5lb/week of muscle gain or 2.0lb/week fat weight loss, they're probably overselling you.
Furthermore, you should have some rapport with your trainer.  Remember, you'll be seeing and working with your trainer often; you want to make sure you get along with your trainer.  If your trainer is someone you can't stand, you'll want to stop showing up.  When you enjoy your trainer (even when they're slaughtering your legs for the 3rd time in 10 days), you'll be more motivated to hit the gym and crush your goals.
Where to find Great Personal Trainers
Great personal trainers are hard to find.  At Extreme Studio Performance, we take pride in having the best personal trainers in the Dallas / Fort Worth Metroplex.  Our trainers have worked with professional athletes from every major sport; in fact, many of our trainers were collegiate or professional athletes at one point in their careers.  ESP Trainers also have over 45 different types of health and Personal Training Certifications covering an enormous range of both standard and specialized fitness and training approaches.
Give us a call at 214-389-4001 or fill out the contact form to schedule a visit and a free personal fitness evaluation. We'll give you a tour of the facilities, run you through a few exercises, and give you feedback on the spot.  All it takes is one visit to see how this gym is different.  This place will change you if you let it.
---
---
---