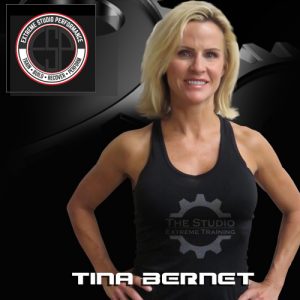 Trainer Introduction
Train harder
Tina has been in the fitness industry for over 25 years, teaching aerobics' classes at several of Dallas' top studios and health clubs, as well as instructing and developing resistance training programs for individuals and groups and is recognized as one of the top female personal trainers in Dallas/Fort Worth area.
Tina graduated from The University of Texas with a Bachelor of Arts in Kinesiology with a minor in Psychology. She has had continuing studies and certifications in nutrition, anatomy, exercise physiology and biomechanics.
Currently, Tina is conducting her personal training business, "Tina Bernet Fitness", out of The Studio in North Dallas. Tina's specialty with regards to her personal training clients is high intensity resistance training and "burst" training with the goal of creating a "metabolic effect" that teaches the body to be not only stronger and more fit, but better at burning fat, not just in the workout, but everyday, all day long.
She has worked with a broad range of clients from ages 11 to 92 helping them to achieve goals such as neuromuscular and functional development, fat-loss, strength and endurance training.
Year
Position
Description
1998-Present
Business Owner, Personal Fitness Consultant and Trainer
Tina teaches to believe in the Power of YOU, only YOU can make it happen.
Given the right tools and road map you will achieve the power of
excellence of a healthy and fit body.  Determination and focus builds the YOU, that YOU want.
Be Yourself… Love Yourself…Own Yourself
Education and Training
The University of Texas at Austin
Bachelor of Liberal Arts, Kinesiology major, Psychology minor
1985-1989
Georgia State University -J. Mack Robinson College of Business
Bachelor of Business Administration (BBA),Finance
1999-2004
 Career Highlights and Achievements
Weekly co-host /Fitness Expert
One Life Radio 1190am
Oct 2012 – Present
Co-Host on The Train Station Fitness Show on The Ticket 1310am
The Ticket 1310am
Apr 2008 – Present