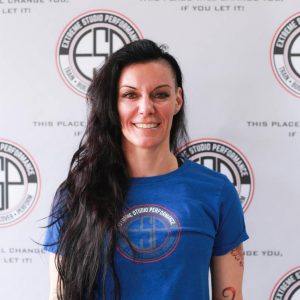 Trainer Introduction
Train Harder
For 2 decades I have been training people and groups of people ranging anywhere from weight loss and gain to corrective mechanics and ergonomics of movement.  My strengths lie in weight training, yoga and meditation along with mind/body reintegration. My clients have been known to take notes in a given session as the goal is to not only train the clients I see but also to educate them on the how's and why's of the human body.
Over the past 18 years I have developed my own yoga business, Prism Yoga LLC, which is geared to teaching yoga beyond the physical postures.  For the past 7 years I have been teaching yoga as well as being utilized as an evaluator of recruits physical state at the Dallas police department basic training academy.
Learn to love your body again and remember…. Movement is life.
Year
Position
Description
2003-Present
Personal Trainer, Yoga Insturctor, Special Populations Trainer
As personal trainer Dawn Griggs brings awareness to each individual practicing by combining yoga postures, strength exercises and the power of colour. The power to learn the unique connections of the human body is the first step in the journey to "know thyself".
Certifications & Qualifications
NSCA, IFPA, NESTA, ISSA with sport specific training in NFL, NBA, Golf, MMA, Hockey, Wrestling, Track & Field, MLB