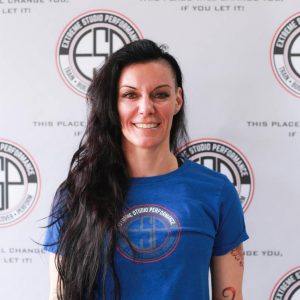 Trainer Introduction
Train Harder
Dawn has more than fifteen years of experience in the health and fitness industry and had the good fortune to work with many different types of people.  PGA golfers, ATP tennis players, Mixed Martial Artists as well as high school level football, baseball, basketball and wrestling all making up a good portion of the athletes.  Working with special populations has always been her personal passion, spanning the range of obesity, injury, illness and disease along with the needs that arise in the older population.  Dawn considers a privilege to help people who may be unsure of how or where to begin.
Dawn's training programs include Kettle Bells, Balance Balls, Medicine balls, Free Weights, Machine Weights and working with a clients own body weight.Before joining The Studio she previously worked at a Tennis Facility Wellness Center. During her time at the wellness center she designed and implemented a Yoga program for The Wellness Center.
Dawn has brought several years of Yoga experience to The Studio and incorporates Yoga into as many of her client's workout programs as possible. Dawn's training philosophy is that Balance, Core Strength and Flexibility are the key to any successful fitness program whether you are a beginner or a professional athlete.
Year
Position
Description
2003-Present
Personal Trainer, Yoga Insturctor, Special Populations Trainer
As personal trainer Dawn Griggs brings awareness to each individual practicing by combining yoga postures, strength exercises and the power of colour. The power to learn the unique connections of the human body is the first step in the journey to "know thyself".
Certifications & Qualifications
NSCA, IFPA, NESTA, ISSA with sport specific training in NFL, NBA, Golf, MMA, Hockey, Wrestling, Track & Field, MLB